Interview KAAN Architecten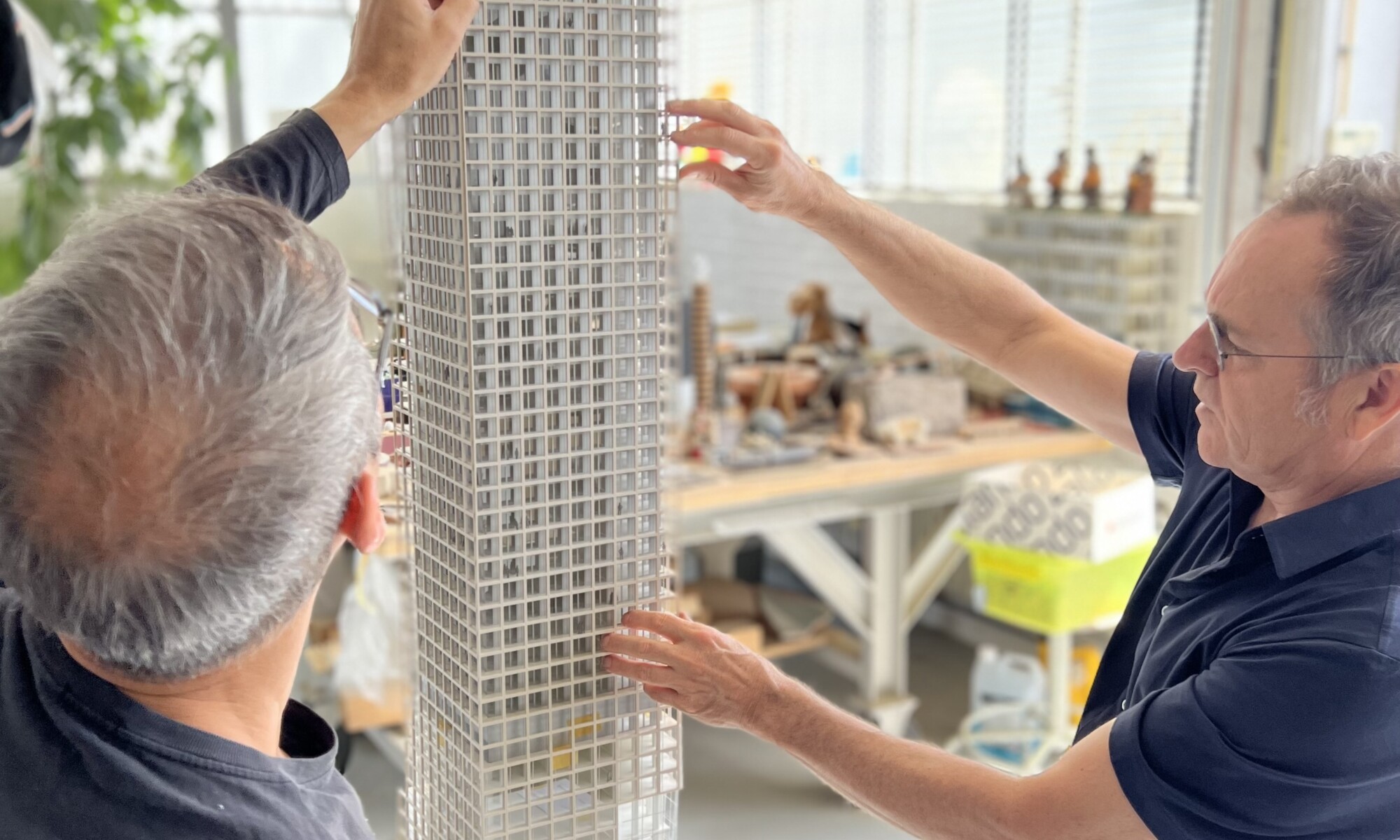 A beacon of light and space is to be built in the heart of Rotterdam Centre: Lumière. A unique location; a seamless convergence of living, working, shopping and accommodation. For this project, the Rotterdam family businesses Manhave and VORM have entered into a partnership with KAAN Architecten.
KAAN Architecten, a Rotterdam-based architectural firm, is led by Kees Kaan, Dikkie Scipio and Vincent Panhuysen. KAAN has many (international) icons to its name, including the monumental Dream House and Zalmhaven Towers II and III. We chose to use light materials and colours, lots of outdoor space and greenery in Lumière's design.

We spoke with Vincent Panhuysen, founding partner, and Aldo Trim, managing architect. They talked about the connection with the heritage buildings surrounding it, how Lumière will play a role in the greening of the city and the many functions of this new iconic building.

Can you tell us more about the concept behind Lumière?
Aldo: "It will be a building of mixed functions right in the heart of the city. In this location you can enjoy a diverse programme; it's a place where you can sleep, work and have fun. This makes the Lumière project very special compared with other Dutch towers. The interesting thing is that it was originally Maaskant's idea to handle the surroundings in this way. Maaskant envisioned people working, living and experiencing in the same place. We are continuing this vision in this plan."
Vincent: "Kruiskade has traditionally been a very important street in Rotterdam. In fact, it's one of the city's oldest streets. It is the street of culture and entertainment, with the Old Luxor theatre as an example. Naturally, the Lumière cinema was located here, on which the name of the building is based. It's the only street in Rotterdam Centre that has retained its form after the bombing. Following reconstruction it became the back of the new centre and has gradually regained its ambiance, but there are still many opportunities."
"Maaskant wanted to transform Kruiskade into a street where all functions can be mixed together. You can see that at City House; shopping combined with working and living. That way you get a dynamic metropolis."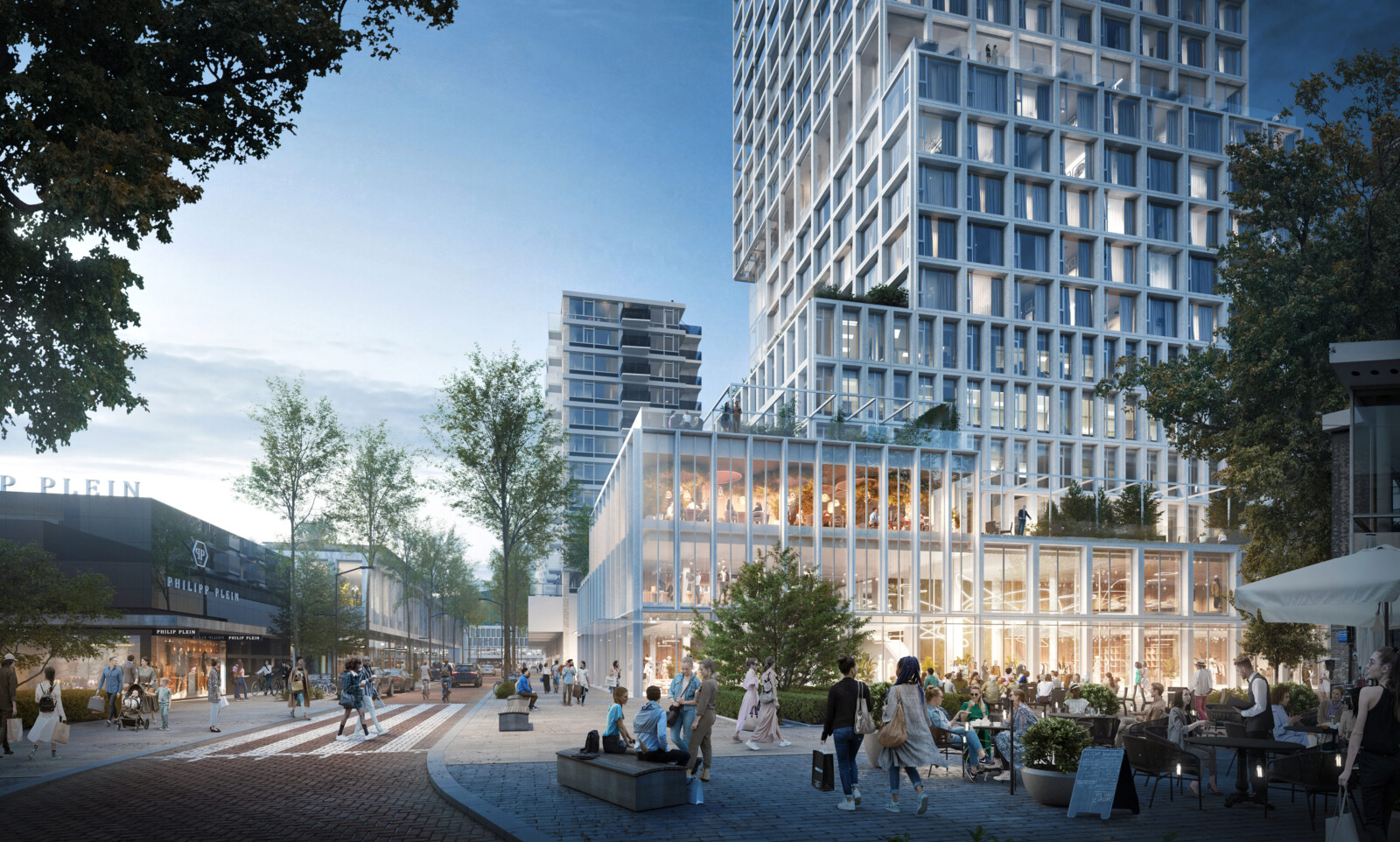 What will Lumière look like? And how does Lumière fit into the surroundings in terms of design?
Aldo: "The tower itself will stand tall in the city and will have a place on the Rotterdam skyline. It will gradually fan out towards the base, where Lumière really finds its place in the location and immediate surroundings. It will stand with one foot on Kruiskade, with the main entrance facing the atrium. An important factor is the connection with the heritage buildings surrounding it. At the base, the building will fragment and take on the recognisable architecture that is in keeping with the rebuilding of Rotterdam. In this way it fits in nicely with Kruiskade buildings, such as the Hilton, but also City House and all other buildings around it. Those buildings all have a certain structure that was typical of the fifties and sixties."
"On the one hand, Lumière will be an abstract, metropolitan building, but near the base it will become increasingly refined, creating beautiful terraces, patios and a large green passage of very generous proportions that will offer access to the existing courtyard. The properties will have ample outdoor space and residents will be able to enjoy generous ceiling heights, which is special in a high-rise project. You don't see that very often. The houses will have recessed balconies that have a certain depth effect."
Vincent: "We aim to position the building in such a way that a lot of light remains everywhere, everything remains clearly visible and the surrounding buildings retain their values. The spatial quality will transform from a delivery area to a pleasant place to stay. Lijnbaanhof will remain accessible to the public and there will be more to experience."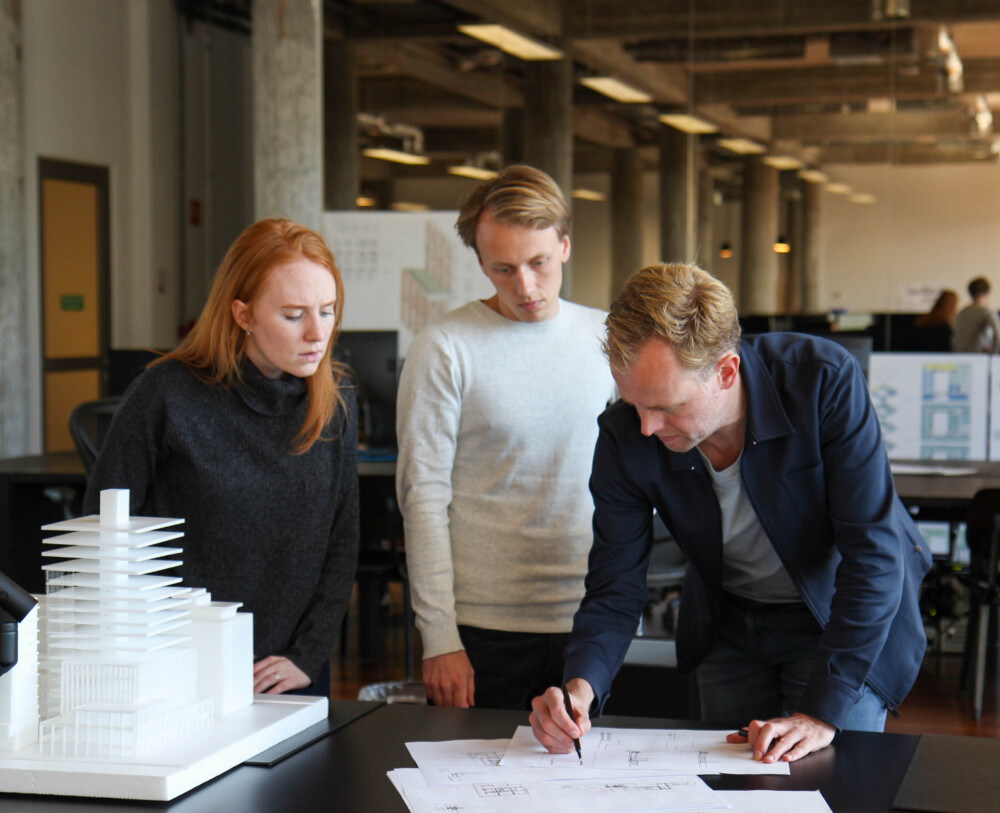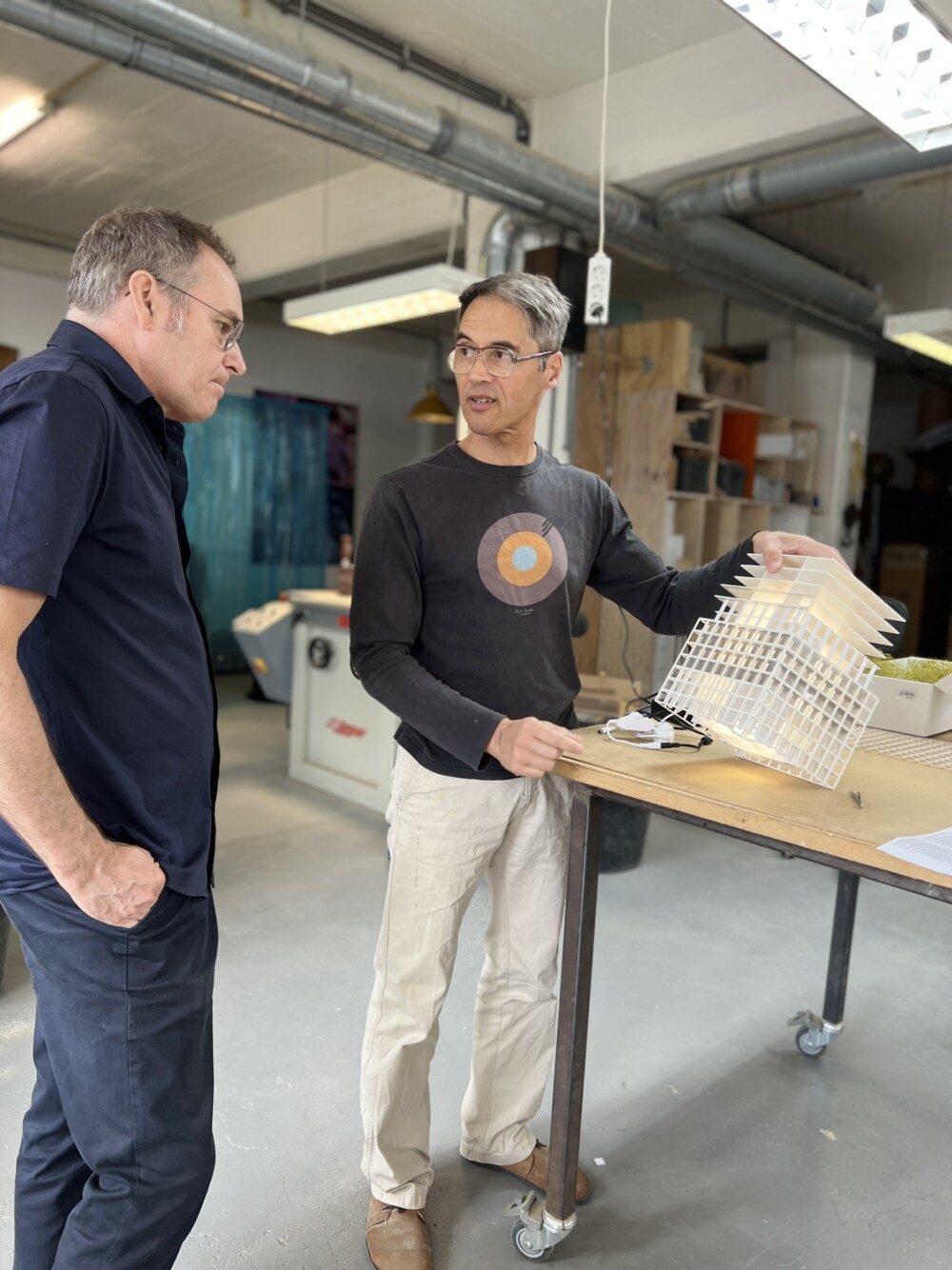 How is space created?
Aldo: "City House will play an important role in the experience at street level. Now City House has opened shops on Kruiskade, Manhave intends to open the shops to the courtyard on the other side as well. Both Lumière and City House will give the old Lijnbaanhof a boost, with quality of life, shops and restaurants. In this way, City House, Lijnbaanflat and Lumière will really create a new space."
Did sustainability play a role in the design?
Aldo: "Unfortunately, with a building of this nature, the impact on the environment is quite high, due to, for example, the large amount of material and its construction. You can't escape that. Lumière's sustainability mainly lies in its added value to the city and what we do with the surrounding area. What is currently a kind of backwater in the centre will soon take on a metropolitan, almost cosmopolitan atmosphere that will give the place a new character. For us, sustainability is all about density and many functions are combined in one place here, resulting in less traffic."
"Lumière will also be built in such a way that it becomes a timeless structure that will still function well in 200 years. We have consciously chosen materials that are slightly more expensive now but remain beautiful for longer and have lower maintenance costs."
"Greening will take place on the many roof terraces. In doing so, we are responding to an ecological corridor that will run through the city centre. All these green roofs prevent heat stress and increase biodiversity. We are also preventing elevated temperatures by using light colours and light materials. Many studies show that dark buildings have a major effect on the temperature in the city. Lumière will also offer a lot of water storage. That is, incidentally, one of the Municipality of Rotterdam's objectives: all roofs are designed in such a way that water can be stored on them."
"Another important aspect is that the tower is made from a rigid concrete construction, but will ultimately be very flexible because of the pre-recorded recesses. This will enable, for example, other homes to be constructed in twenty years' time, or hotels can be converted into offices or vice versa. A big plus is the floor height; together with Manhave Vastgoed and VORM, we have opted for a storey height of 3.25 metres instead of the prescribed minimum storey height. This creates the possibility to adapt installations in the future, re-arrange the properties more easily or to change their function. This is unique for a high-rise project. Every floor is sacred, because with every floor you get income."
Vincent: "The great thing is that Manhave builds for their tenants and is already looking at how they will use the building. They consider the quality it should still have in 50 to 100 years. Lumière is a tower that is prepared for the future."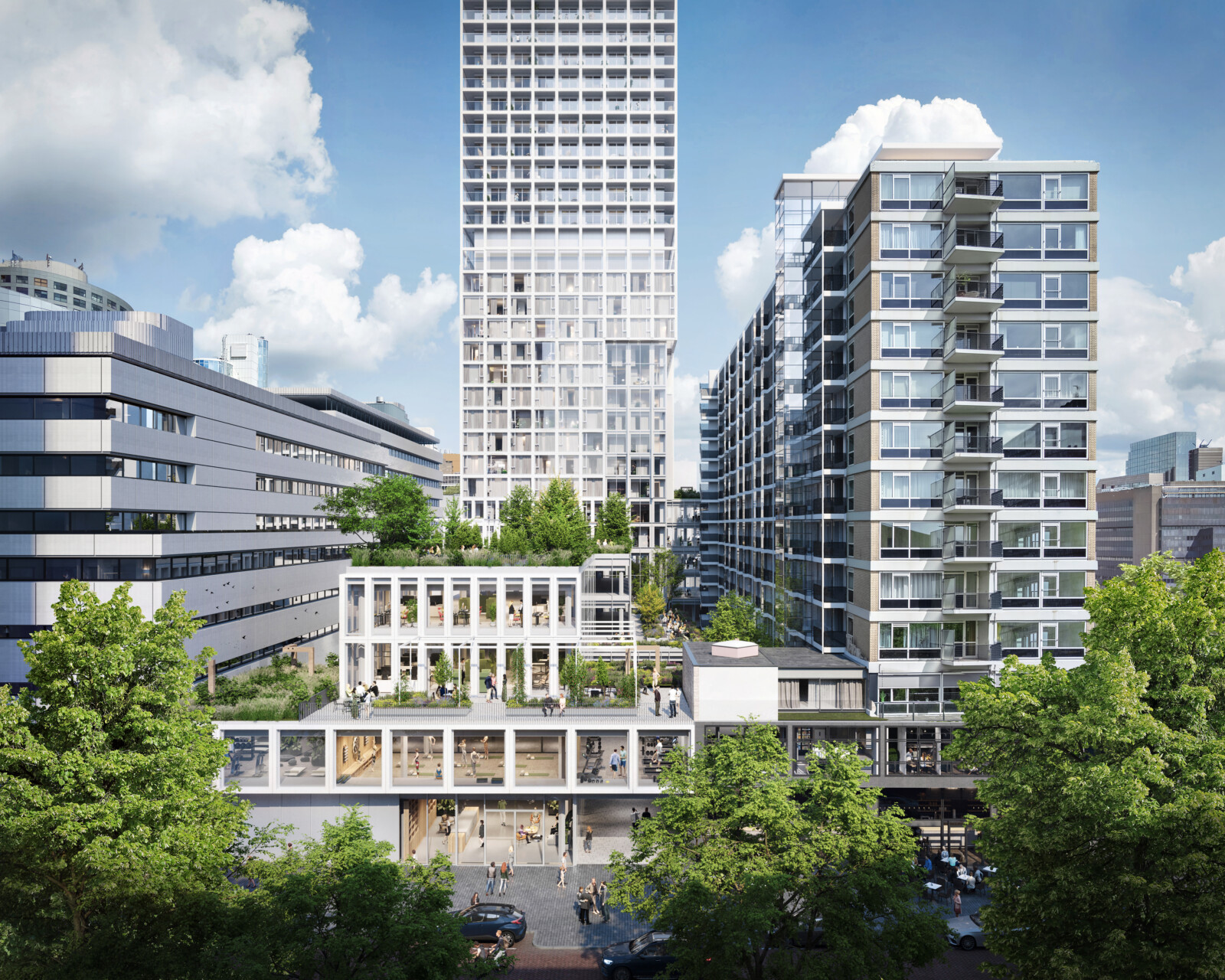 How does Lumière ensure greening in the city?
Vincent: "Lumière also plays an important role in the city centre's eco structure. We are collaborating with LOLA Landscape Architects on this project. Heights are reserved for greenery and stable structures, so that you can plant on them. It's about biodiversity in our built environment and reducing heat stress in our cities."
Aldo: "An important aspect of the design is the green passage. During the day it is open to the public. We use greenery to guide passers-by in this. There's a kink in the route and the trees are the landmarks in the space. There's also a lot of greenery on the recessed terraces, which results in you walking in the city and partly in a stepped landscape.
What is Lumière's programming?
Aldo: "It will be one of the most diverse buildings in Rotterdam, comparable to De Rotterdam and the Groothandelsgebouw. As I mentioned earlier, it will be a building of mixed functions; ample outdoor space, offices, homes, food establishments and a social programme. What is also special is that the residents at the top, in the large glass crown, will have common multifunctional spaces including a large kitchen, workstations in a winter garden and guest accommodation."
"There will be a programme from early in the morning until late at night and as there's a hotel with a bar, there'll be something to do 24/7. And there will be an international top restaurant with a terrace on the corner of Kruiskade and Lijnbaan, which will be open to the public. There'll be a tremendous vibrancy on different levels. We're also considering the separation between residents and tourists. Everyone can come together in the atrium, but the hotel is accessible separately via the patio."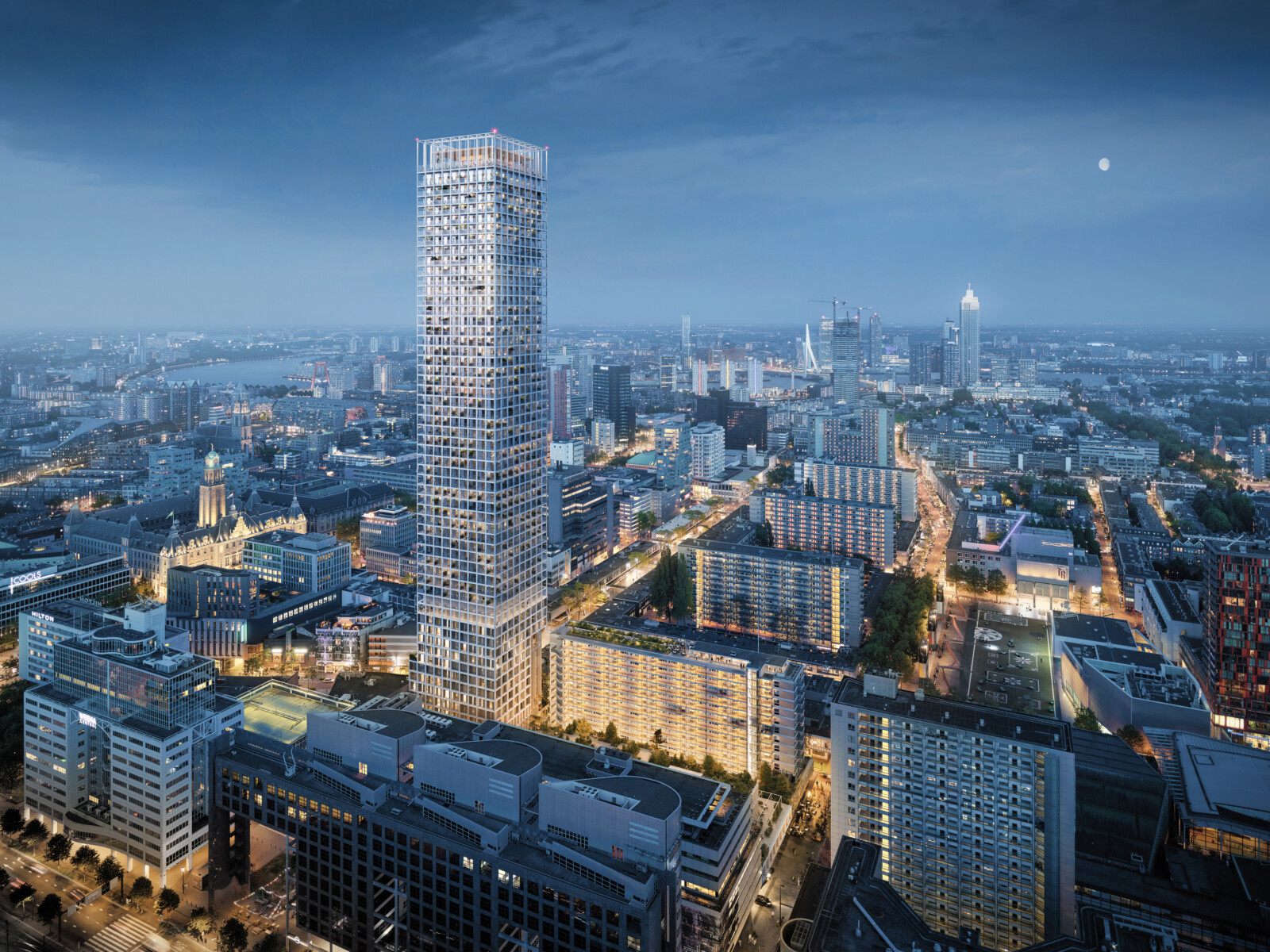 Why was the name Lumière chosen?
Aldo: "It's named after the former Lumière cinema. This name gave us a good reason to do something with light, which is why we started a collaboration with light artist Arnout Meijer. Especially in the evenings there will be beautiful lighting, which will go further than the standard facade lighting. Arnout is looking for ways to emphasise the depth of the tower with special lighting. He has an idea of how it works both at night and during the day, by means of certain colour combinations in the materialisation of the facade, without negatively influencing the flora and fauna in the area. Soft colour tones that suddenly play nicely with the sky colours in daylight. It will not work with light colour, but with light temperature."
Vincent: "We also see the name Lumière as inspiration to establish a very light-footed beacon, exactly at the pivot point in the high-rise ridge from the Maas towards the Central District. It is rightly called Lumière, as a beacon of light and space."