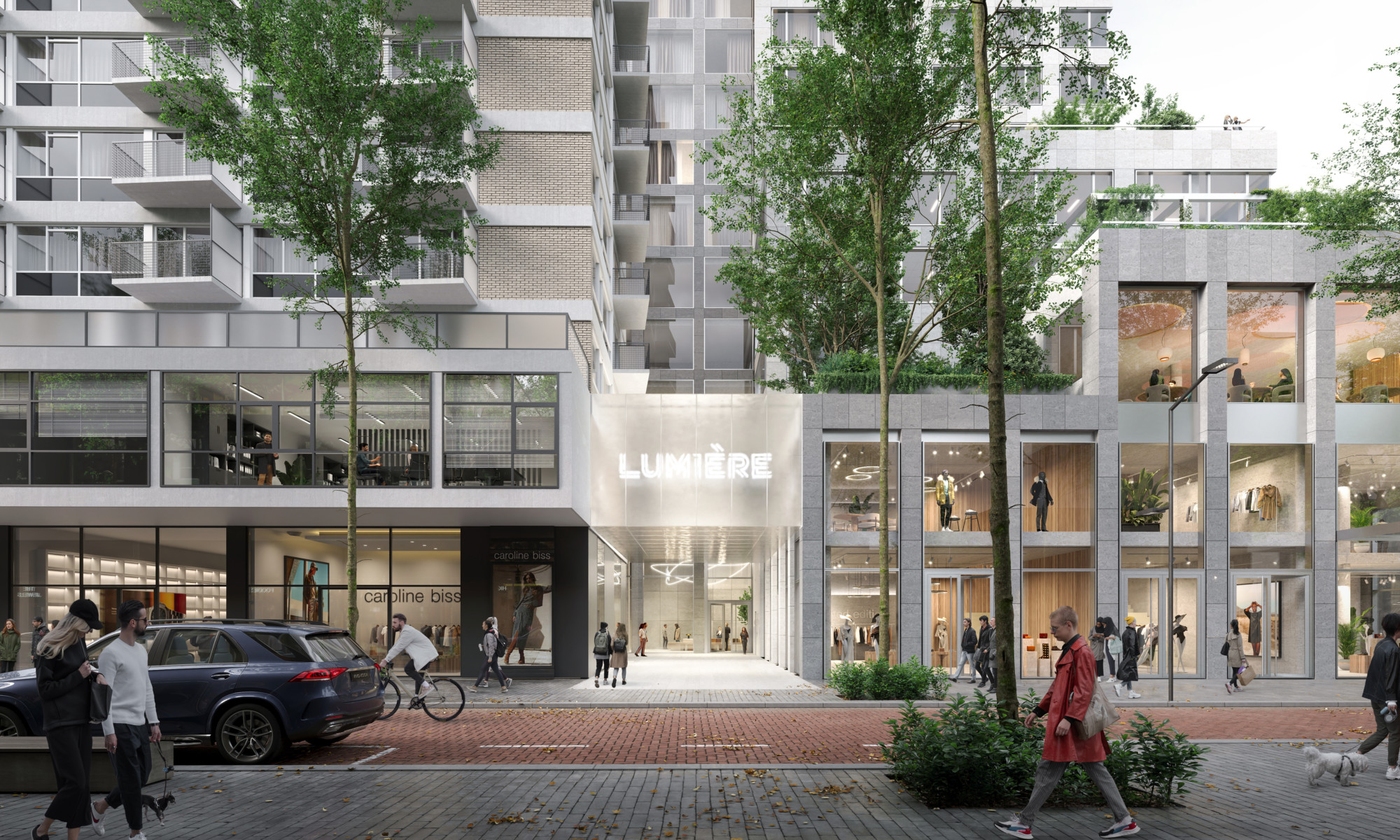 Lumière is set to become a unique destination with international appeal. This undertaking represents not only an architectural triumph but also a manifestation of our dedication to sustainable urban progress, melding diverse functions to forge a vertical metropolis. Soaring to a height of 155 meters, this skyscraper will function not merely as a contemporary emblem for residential living, professional endeavors, shopping, and lodging, but also as an emblem of advancement and ingenuity. Here, both residents of Rotterdam and individuals from beyond the city's confines will converge.
Lumière Passage Karel Doormanstraat direction

© Vivid Vision, KAAN Architecten

Lumiere Passage Karel Doormanstraat direction shopping

© Vivid Vision, KAAN Architecten

Lumière Tower Lijnbaan entrance to the Atrium and The Lumière Passage

© Vivid Vision, KAAN Architecten

Lumière Passage Lijnbaan direction

© Vivid Vision, KAAN Architecten

Lumière Passage Rotterdam Karel Doormanstraat entrance

© Vivid Vision, KAAN Architecten, Ossip van Duijvenbode

Lumière Tower corner view Kruiskade and Lijnbaan

© Vivid Vision, KAAN Architecten

Lumière Tower and Lumière Passage Kruiskade entrance
Clean, safe and social
It will be a pristine and secure place, overseen by a dedicated custodian and under constant 24/7 surveillance via camera systems. Additionally, considerable emphasis will be placed on the spatial design and arrangement. The selection of functions and the layout of the office, commercial, retail, and hospitality spaces will play a pivotal role in shaping both the culture and ambiance, as well as the level of social vigilance and safety within the Lumière Passage. These aspects fall well within the purview of Manhave Vastgoed's established expertise.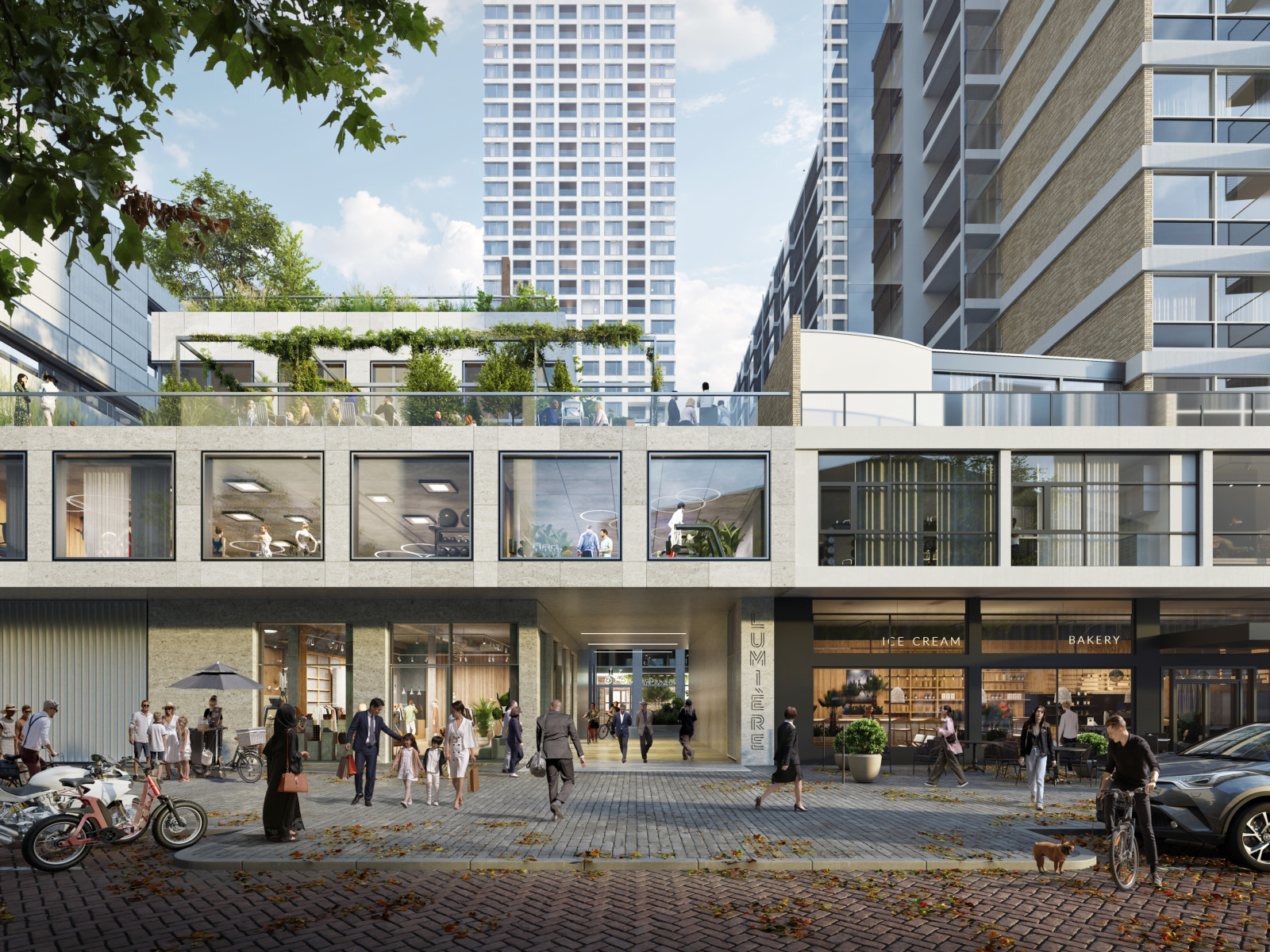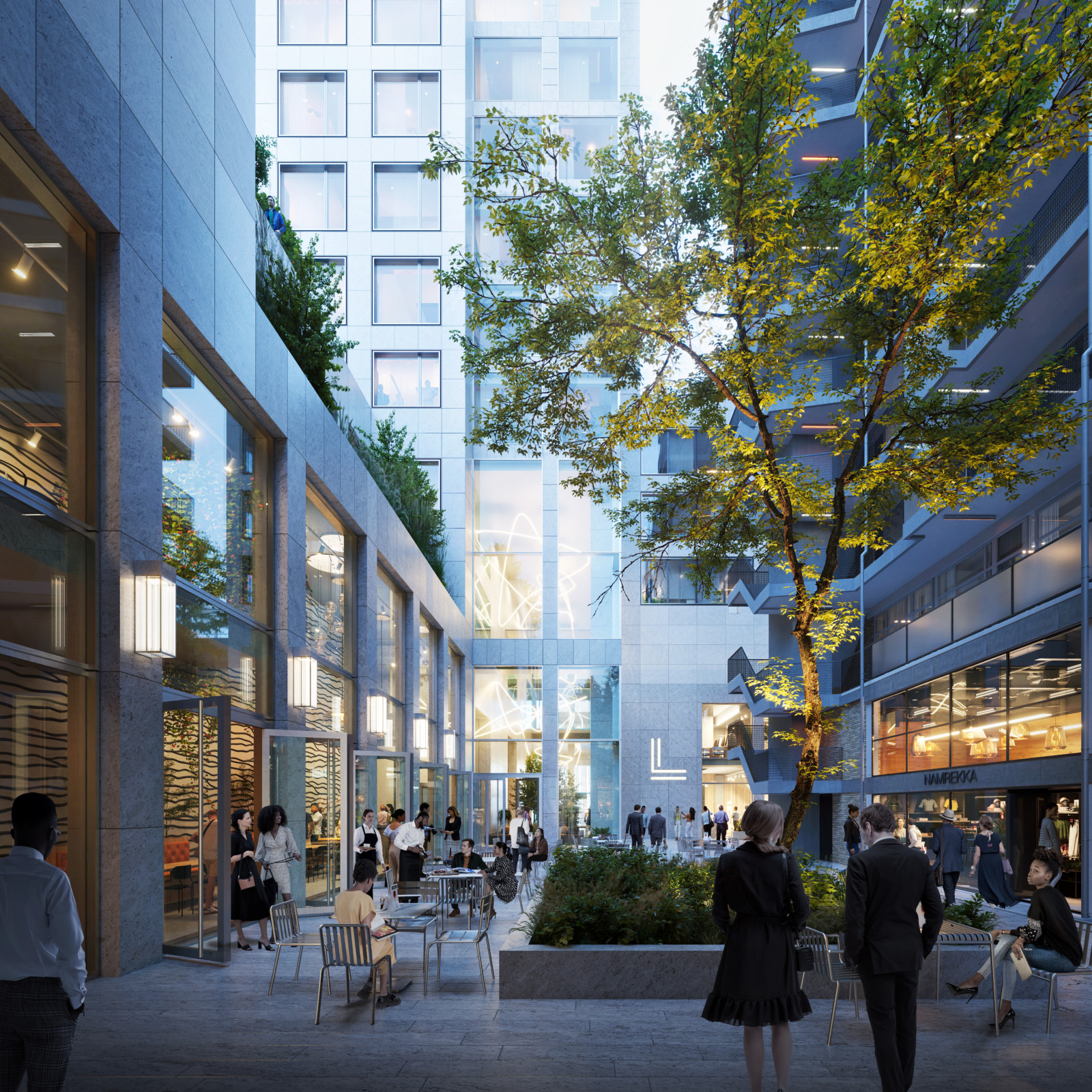 Openness and liveliness
On the Karel Doormanstraat side, currently housing Cupra, we envision a splendid retail and hospitality establishment with an alluring transparent façade. Adjacent to the bicycle parking garage, near the entrance, we have planned a service hub for the local community, offering various convenient amenities such as a bicycle repair shop and parcel collection service.

Within the Passage leading toward the tower, one can find the entrances to the commercial spaces and communal areas. The Passage culminates in an expansive area that doubles as a courtyard, replete with greenery and terraces for the grand café. Here, situated within this courtyard, is the atrium beneath the tower, serving as the primary point of access to the offices, residential units, and hotel. Our aim is to invigorate this central entrance beneath the tower by establishing a shared reception area.
For the Lumière Passage, we aspire to provide a platform for 'local heroes.' Our vision entails housing artistic Rotterdam-based manufacturing firms, complete with studios, alongside trendy Rotterdam food and coffee bars and yoga studios with both day and evening offerings, catering to the needs of visitors and office denizens alike. Additionally, a patio terrace will grace this space, making it a welcoming haven where residents, occupants, and guests can find solace, socialize, unwind, or engage in flexible work arrangements.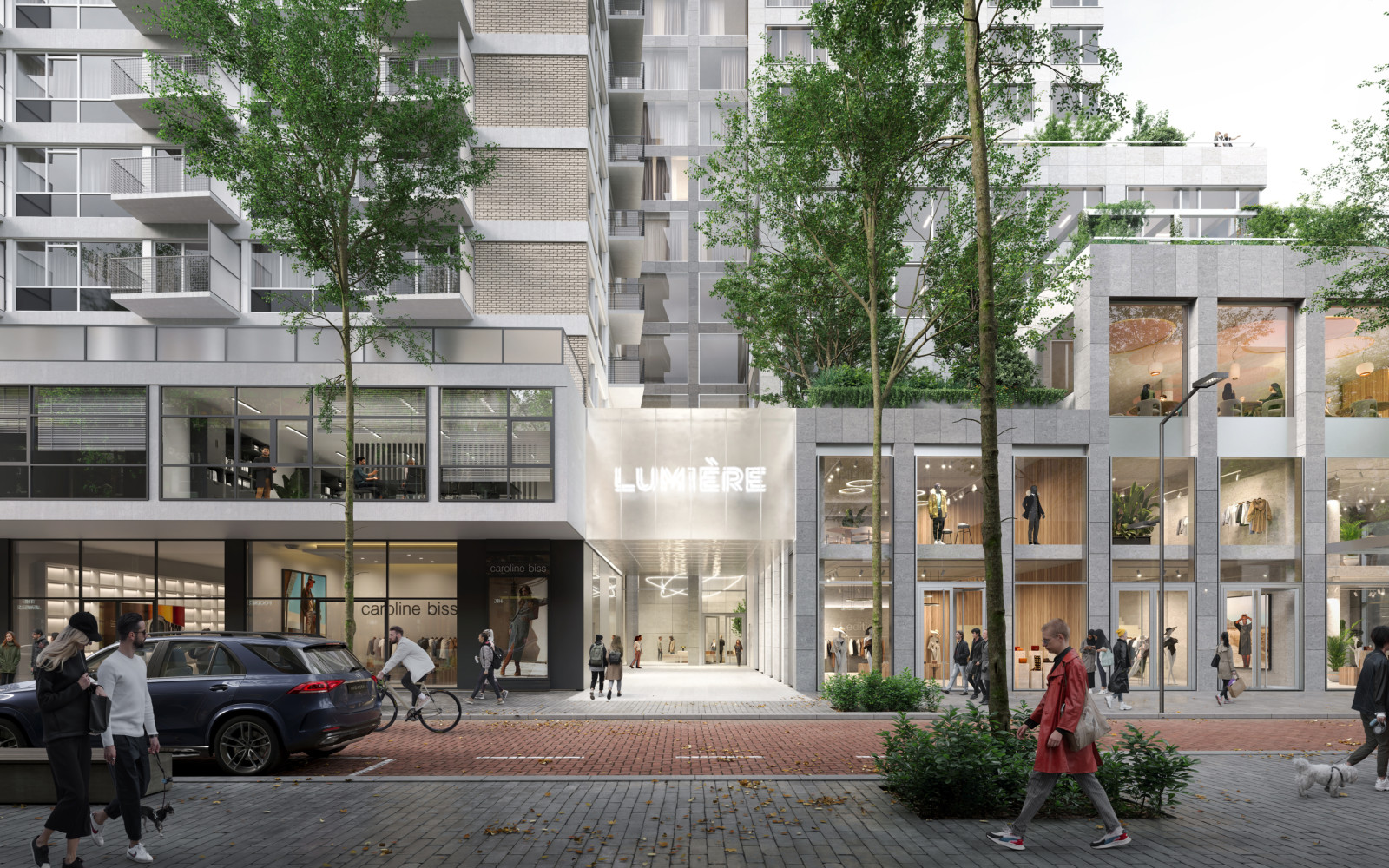 We aim to establish a clear connection with City House by transforming the rear facades of City House's retail units into secondary entrances. Furthermore, we are exploring possibilities to incorporate the east facade of the existing Caroline Biss store at Kruiskade 59 into the design of the primary entrance. This could involve strategically puncturing the wall (if structurally feasible), transforming the wall into a grand work of art, or converting it into a verdant living wall integrated with the overall landscape design. Naturally, we will preserve the monumentality of City House.
Intervening with the Caroline Biss wall would positively enhance the vibrancy of the main entrance and the adjoining courtyard, rendering it an appealing space for strolling and leisurely activities. For residents and hotel guests, the Lumière Passage will offer a delightful route connecting the main entrance and the Lijnbaan entrance of Lumière to various destinations, including Central Station. Additionally, the passage will grant access to the bicycle garage, complete with rental bikes, on Karel Doormanstraat.
Public access
The Lumière Passage is designed to remain open to the public at all times, but it can be closed temporarily when needed, such as during nighttime hours. The necessary infrastructure for this is already in place, featuring custom-designed ornamental fencing at the entrances. Access to the passage can be granted through membership or an entrance code which can be used only once, using a pass or smartphone, following the example set by the RET.