New design for the Lumière Tower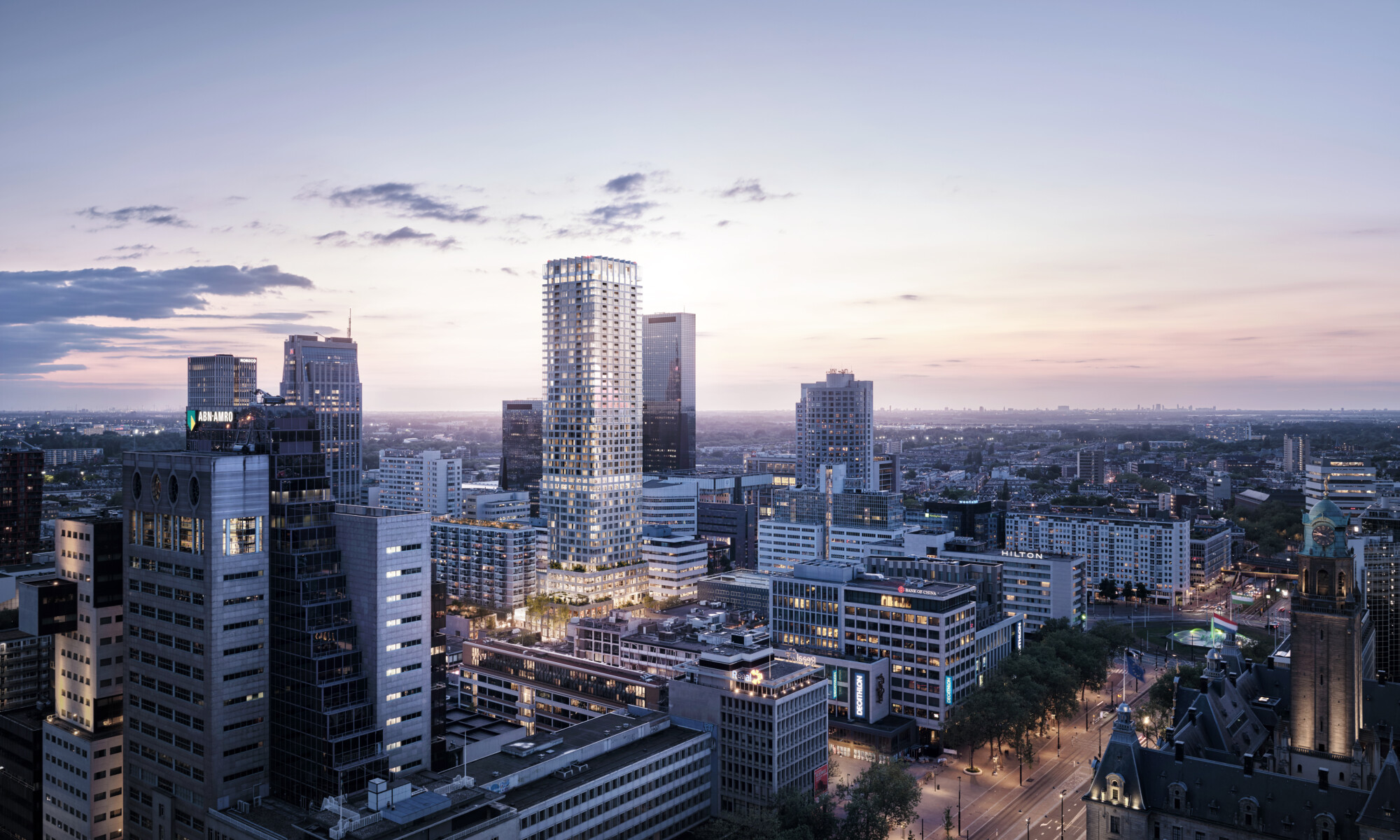 New design for the Lumière Tower
Manhave and VORM have unveiled their latest design for the Lumière Tower in downtown Rotterdam. This ambitious construction project, situated at the intersection of Kruiskade and Lijnbaan, will now stand at a height of 155 meters, a departure from the earlier 200-meter design proposed in 2020. The renowned Rotterdam-based architectural firm KAAN has adapted the design to ensure optimal wind conditions in the immediate vicinity.
The Lumière Tower is poised to play a pivotal role in revitalizing the heart of Rotterdam. It will feature approximately 265 rental apartments, a high-end hotel boasting around 150 rooms, office spaces, social amenities, upscale boutiques, and dining establishments.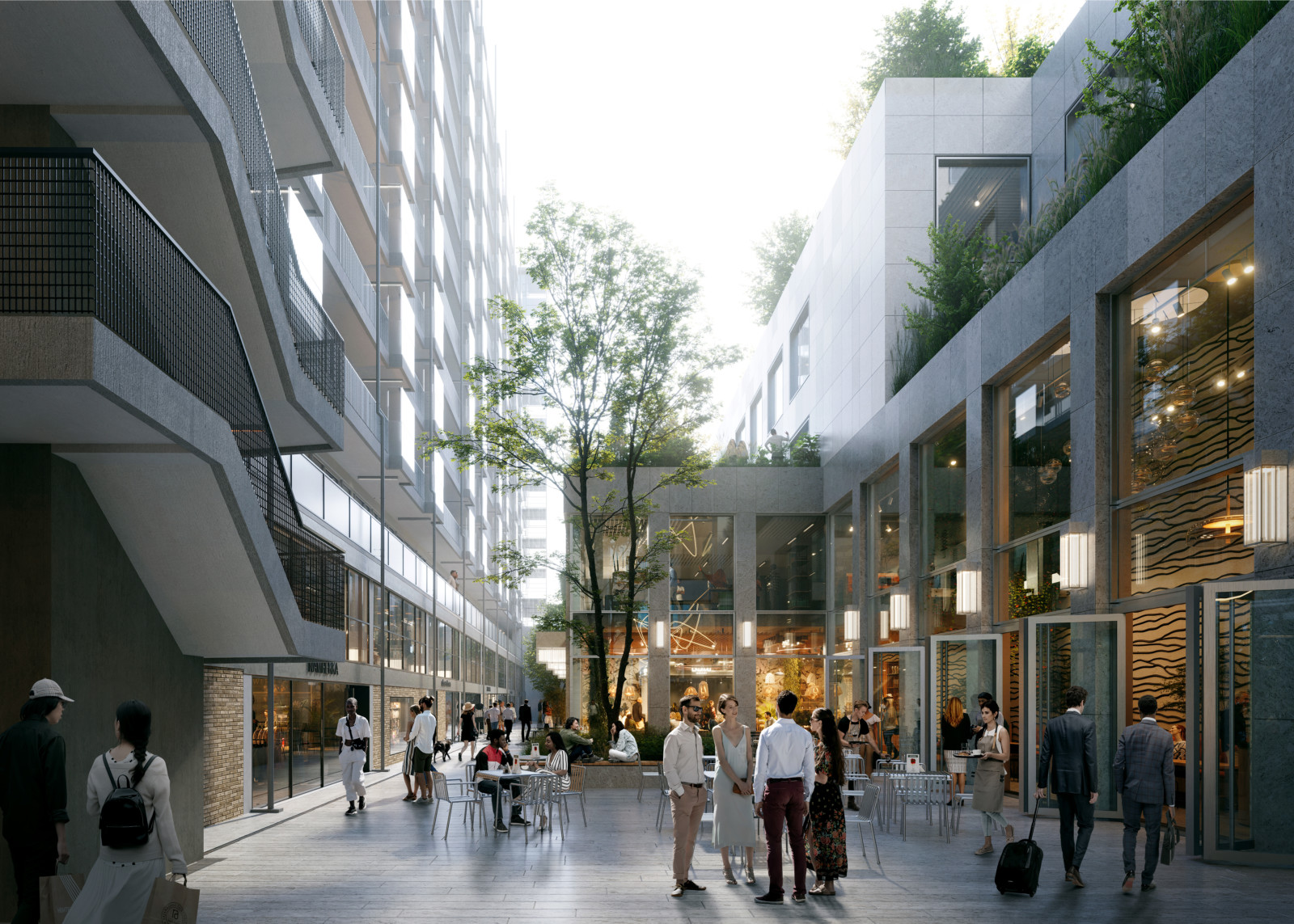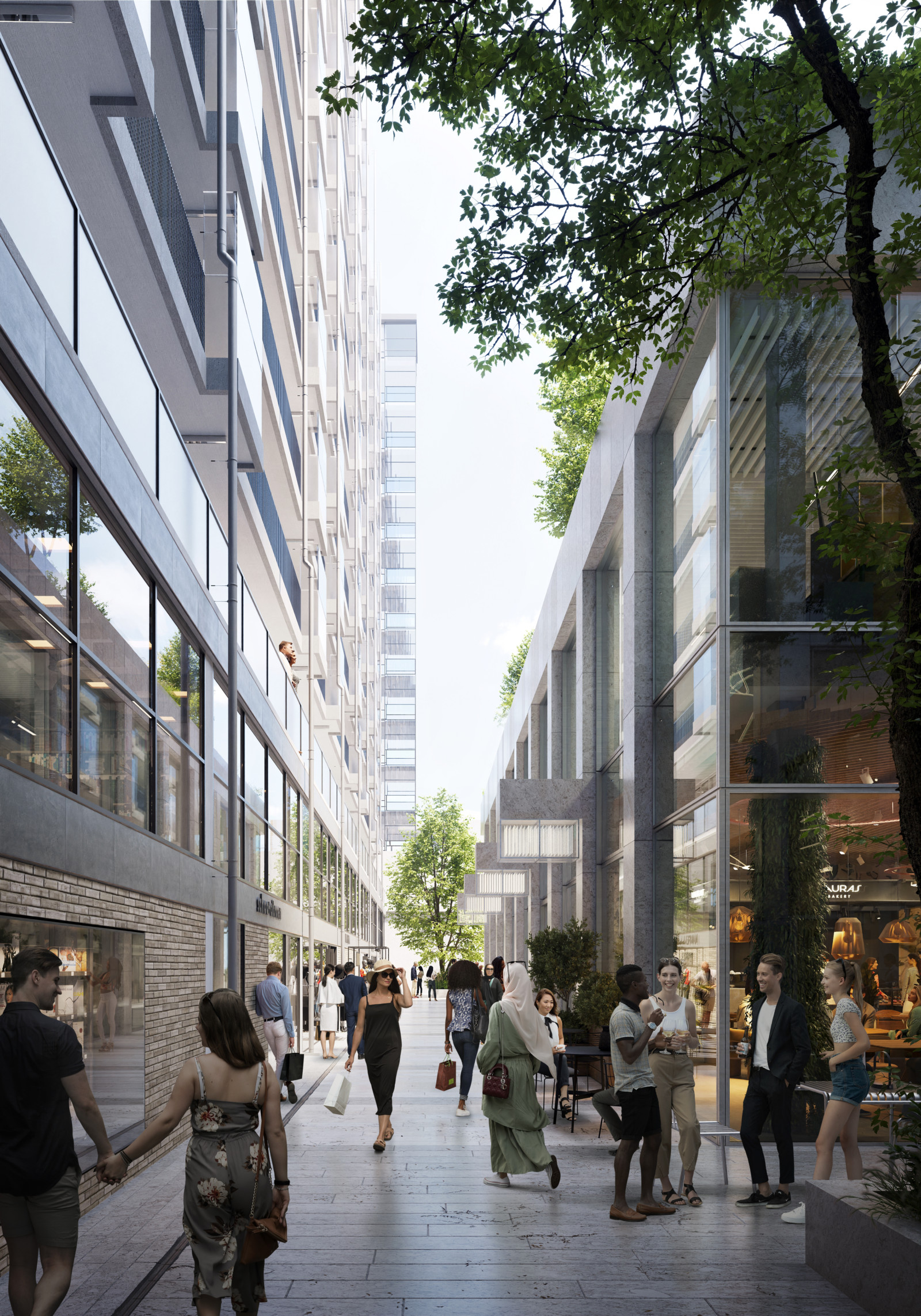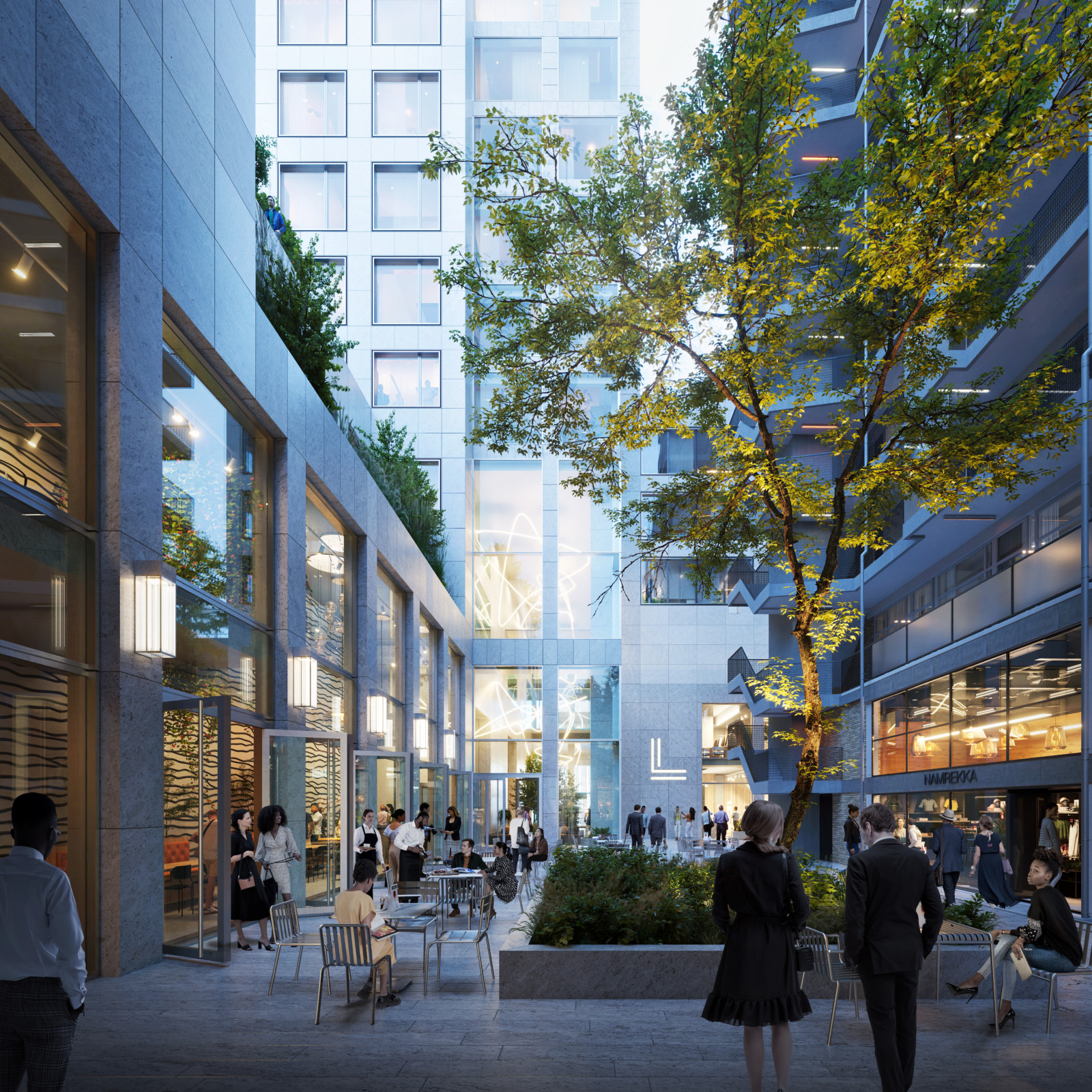 Lumière Passage
The Lumière Passage is destined to become a novel and enticing destination. Nestled discreetly between the City House and the base of the Lumière Tower, this quaint thoroughfare will connect Lijnbaan to Karel Doormanstraat and Kruiskade. It promises to be a unique and inspiring space, curated with an artistic blend of amenities, shops, and artwork. Abundant greenery further enhances its charm, with trees lining the street level and a profusion of plants and gardens adorning various rooftops, masterfully designed by LOLA Landscape Architects. Every aspect is meticulously crafted to offer an intimate and pleasurable experience.
© Vivid Vision, KAAN Architecten, Ossip van Duijvenbode

Lumière Tower Crown night view at 155 meters

© Vivid Vision, KAAN Architecten

Lumière Passage Rotterdam Karel Doormanstraat entrance

© Vivid Vision, KAAN Architecten

Lumière Tower and Lumière Passage Kruiskade entrance

© Vivid Vision, KAAN Architecten

Lumière Tower Lijnbaan entrance to the Atrium and The Lumière Passage

© Vivid Vision, KAAN Architecten

Lumière Passage Karel Doormanstraat direction

© Vivid Vision, KAAN Architecten

Lumiere Passage Karel Doormanstraat direction shopping

© Vivid Vision, KAAN Architecten

Lumière Passage Lijnbaan direction

© Vivid Vision, KAAN Architecten, Ossip van Duijvenbode

Lumière Tower and Lumière Passage entrance Karel Doormanstraat

© Vivid Vision, KAAN Architecten, Ossip van Duijvenbode

Lumière Tower corner view Kruiskade and Lijnbaan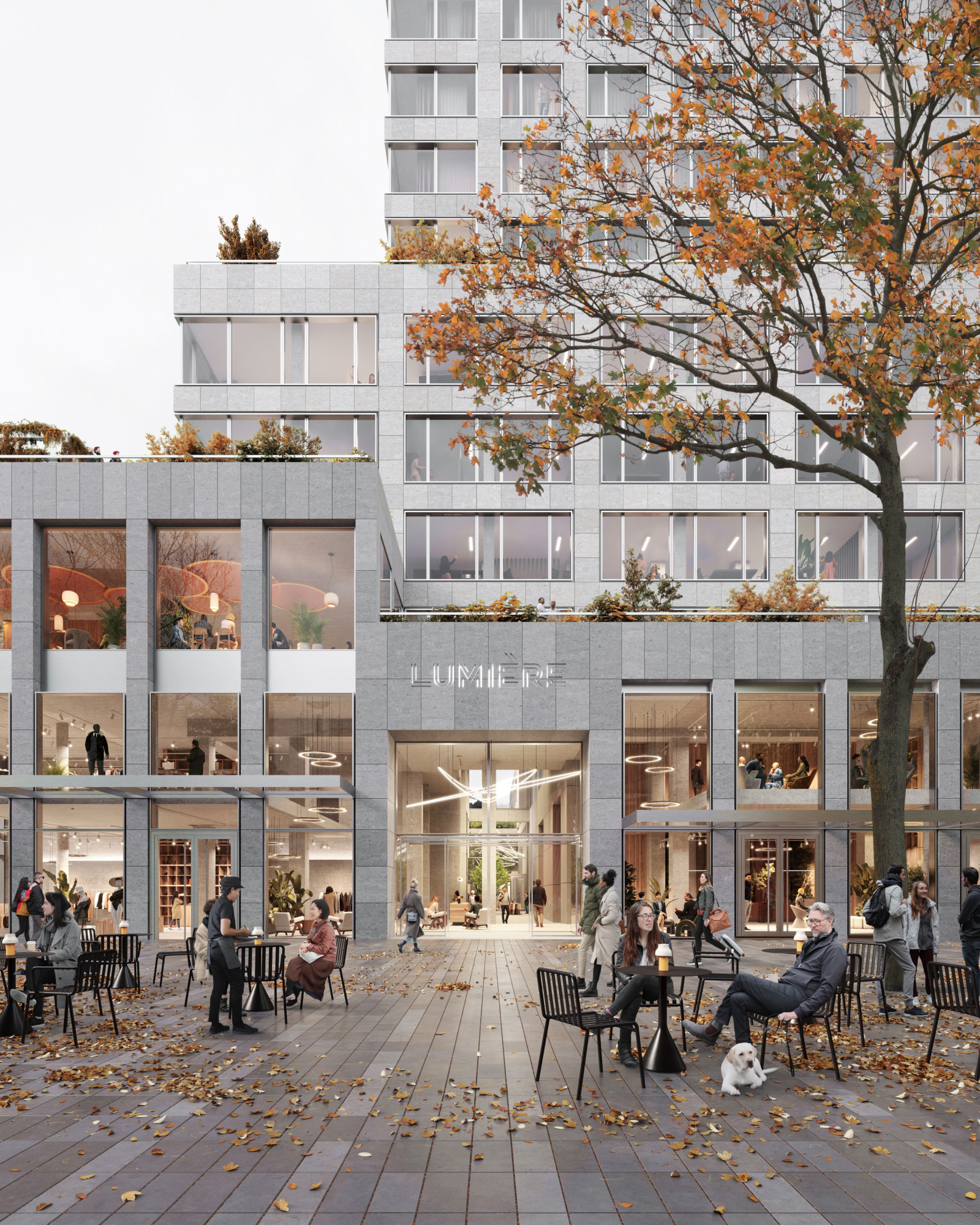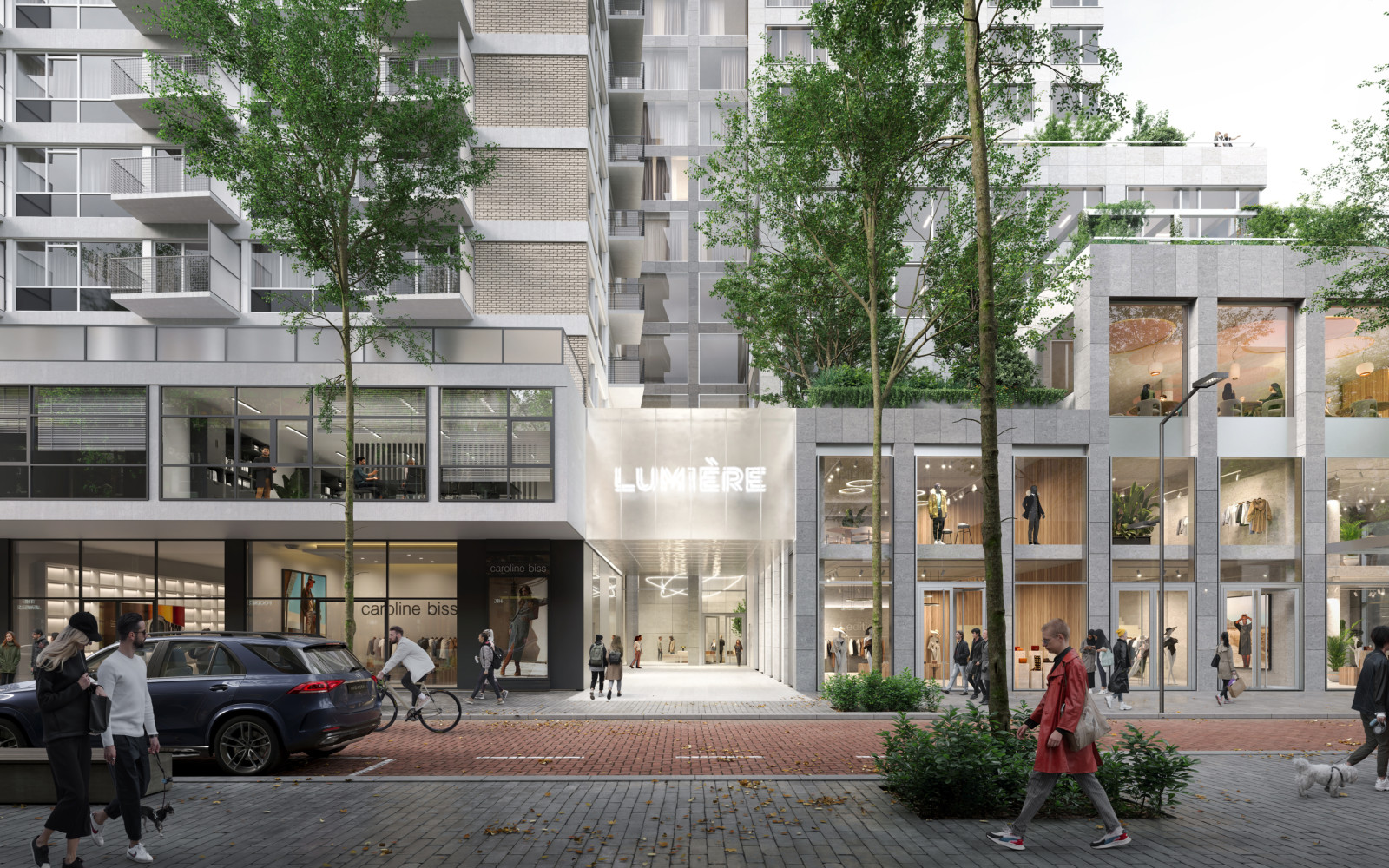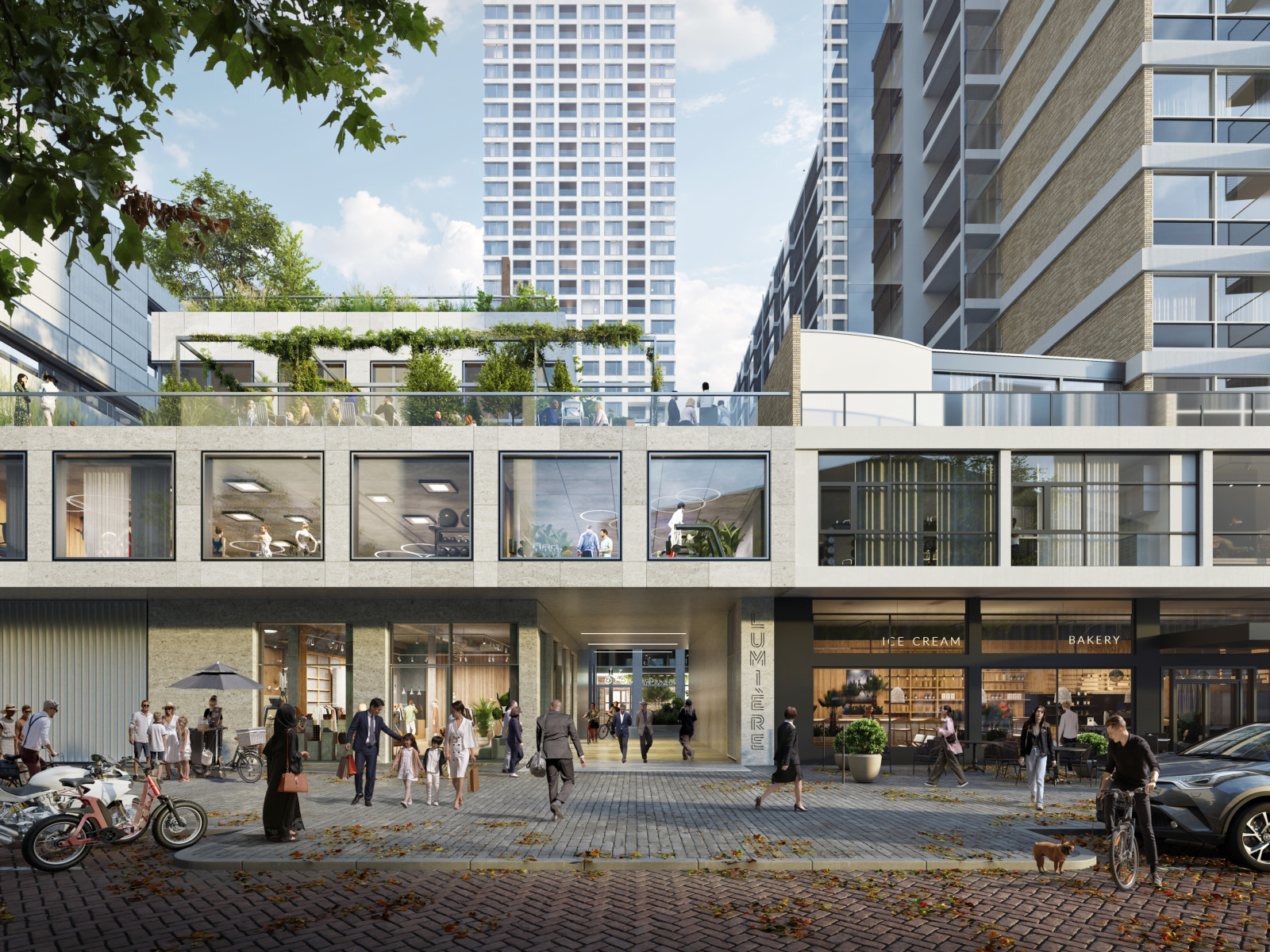 The Lumière Tower comprises approximately 265 rental apartments, ranging in size from 50 to 135 square meters, situated in the uppermost section of the building. These apartments are bathed in natural light thanks to their generous ceiling height of approximately 2.75 meters and expansive windows encircling the living spaces. Each apartment features a private loggia, offering residents stunning city vistas.
The high-end hotel, as well as office and commercial spaces, are positioned in the lower and middle sections of the tower. The hotel boasts around 150 rooms and houses an upscale restaurant on its 2nd and 3rd floors, complete with a roof terrace affording magnificent views of the Kruiskade and Lijnbaan. Furthermore, the hotel offers a luxurious beauty spa and fitness facilities. In the case of the offices, which adhere to BREEAM and WELL standards, our focus lies on both local and international businesses.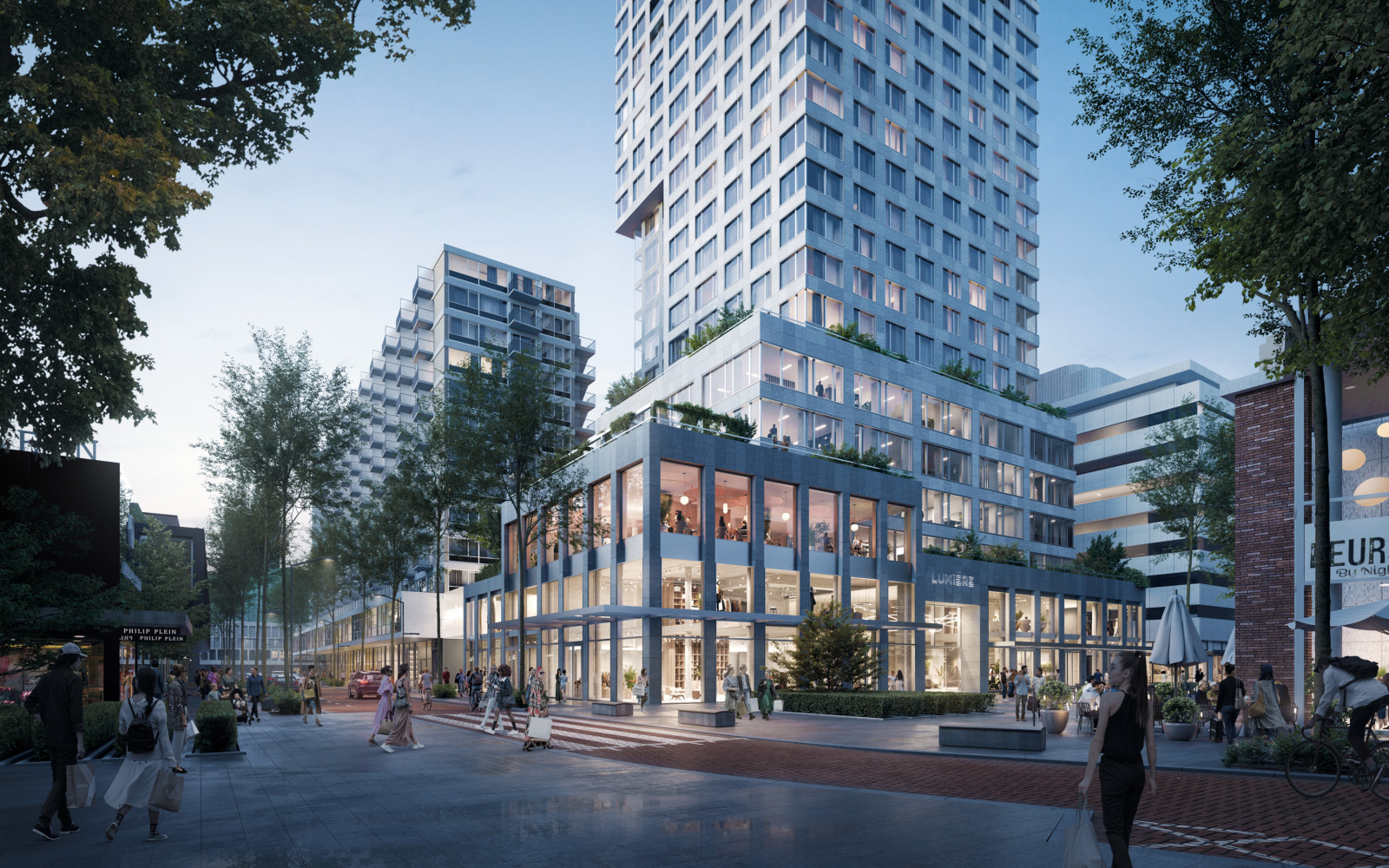 Ground floor
The ground floor will exude vibrancy, characterized by its abundant natural light and lofty plinths that invite engagement from visitors throughout. What sets this design apart is its ingenious concealment of closed facade segments and entry/exit points for waste and logistical operations. This is ingeniously addressed through a discreetly hidden covered expedition street.

The revitalized plan allocates space for upscale retail establishments, a grand café, and business premises along Lijnbaan, Kruiskade, and within the Lumière Passage. Additionally, there are plans for public programming on Karel Doormanstraat, encompassing a versatile range of offerings such as retail, dining, or social functions.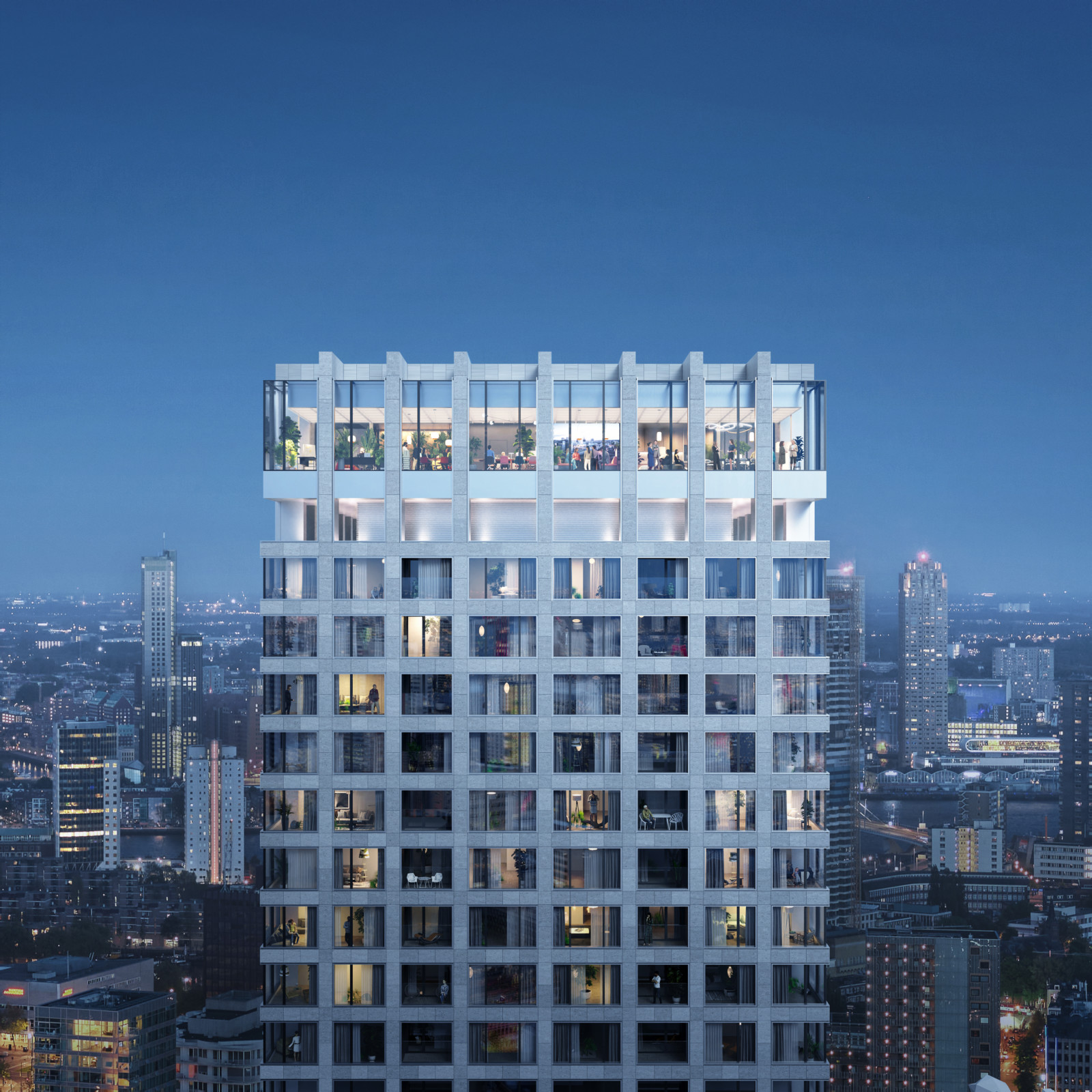 The crown
Lumière's design draws inspiration from the enduring elegance of early 20th-century high-rise structures in New York, notably the Rockefeller Center. One distinguishing feature of this towering edifice is its exquisite crown, which gracefully adorns the building's pinnacle. Fashioned as a luminous glass block, Lumière's crown transforms into a beacon in the cityscape after nightfall, and within it, it accommodates several exclusive amenities for the residents of Lumière. These include a movie theater, a communal kitchen, and workspaces nestled amidst a captivating, sheltered rooftop garden.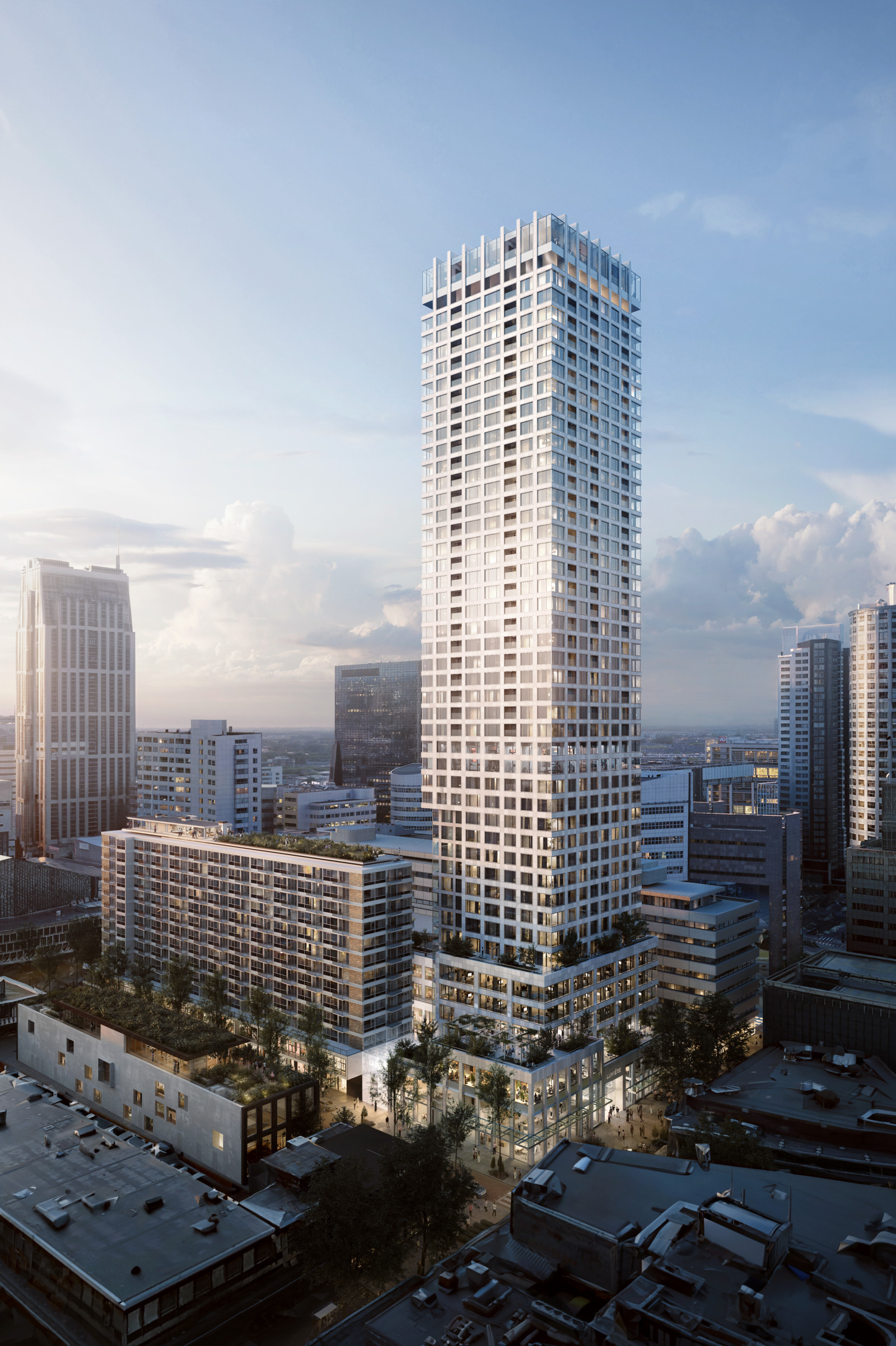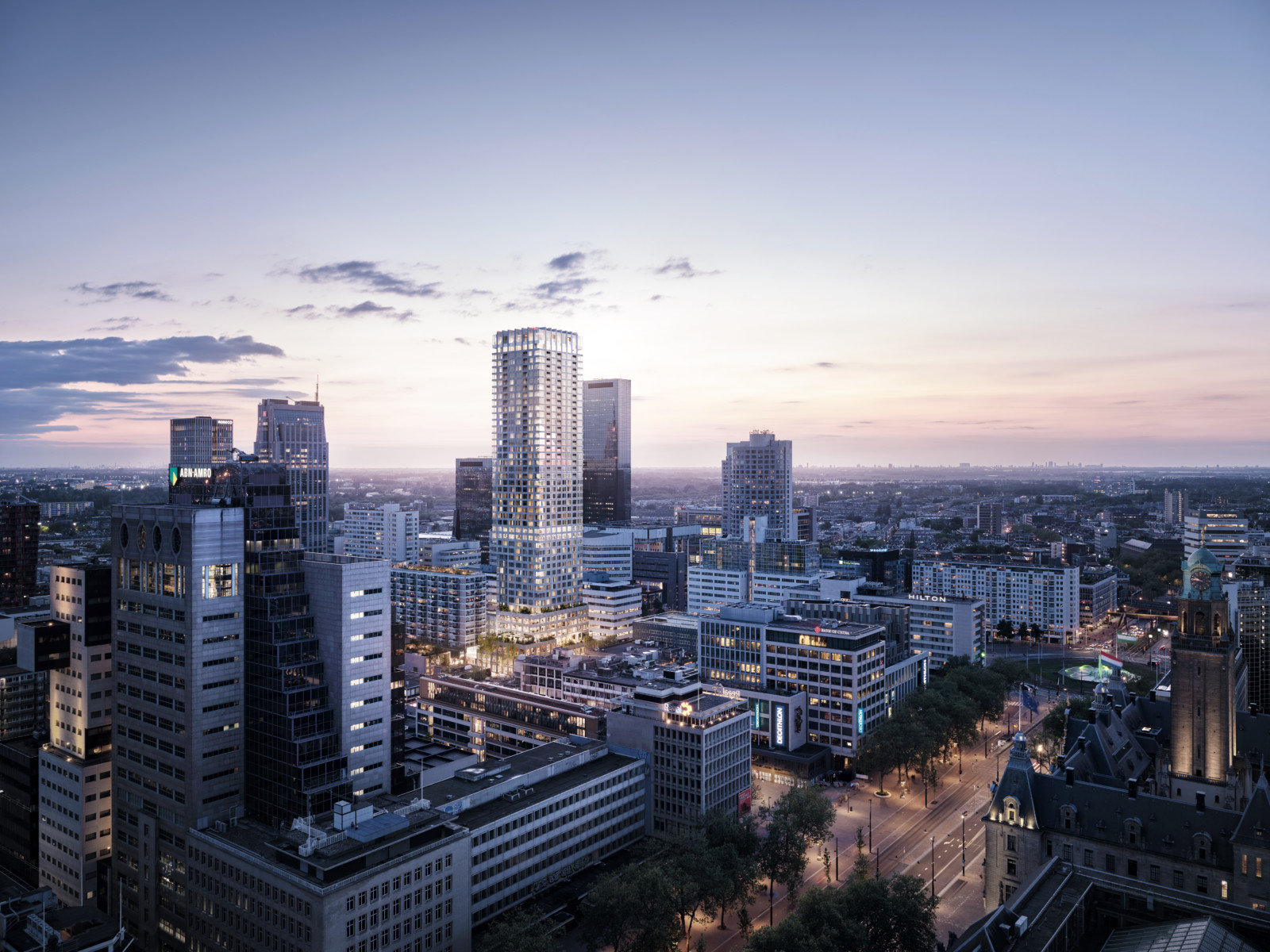 International allure
Lumière is set to become a unique destination with international appeal. This undertaking represents not only an architectural triumph but also a manifestation of our dedication to sustainable urban progress, melding diverse functions to forge a vertical metropolis. Soaring to a height of 155 meters, this skyscraper will function not merely as a contemporary emblem for residential living, professional endeavors, shopping, and lodging, but also as an emblem of advancement and ingenuity. Here, both residents of Rotterdam and individuals from beyond the city's confines will converge.
Monumental integration in the city
Lumière is intricately linked to the 'Lijnbaanensemble,' a nationally recognized monument symbolizing Rotterdam's post-war reconstruction era, as well as the taller edifices and contemporary developments in the vicinity of Weena, Hofplein, and the Rotterdam Central District. Consequently, this project presents an opportunity to reinforce the connections between various urban zones.